MEDIA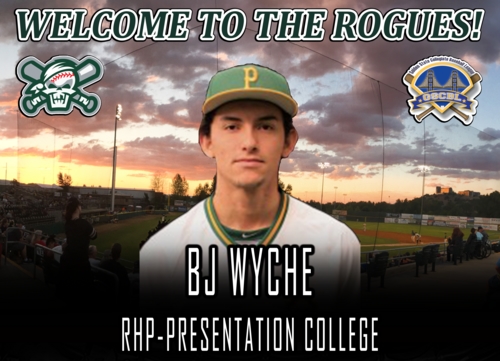 05/04/2019 12:45 PM
Article By: Jonathan Kurman
MEDFORD, Or -- The Medford Rogues have signed pitcher BJ Wyche from Presentation College for the 2019 season.
Wyche led his team in ERA (3.89) and Wins (4-3) in 41.2 innings pitched at Presentation College and was named 2nd team all Conference (NSAA) starting pitcher in 2019 as a true freshman. He was a two year letterman at Centennial High School in Las Vegas, NV, helping his team to back to back conference titles.
At the age of 14, BJ got the opportunity to try out for the USA national team. His hat falls off frequently when he pitches because of his long hair. It's gotten so bad, his teammates have started counting how many times it falls off. The high is 38 times.
BJ plans to major in Biology, and has seven family members who are currently in the military or are military veterans.
---
The Golden State Collegiate Baseball League is a 8-team, wooden bat collegiate summer baseball league founded in 2012. The GSCBL is a showcase for top college-level players, giving professional baseball scouts a chance to see prospective pros playing against each other.
The GSCBL brings highly competitive collegiate baseball to mid-sized communities throughout the West while featuring affordable family entertainment. The GSCBL will have franchises in California (Alameda, Petaluma, Sacramento, San Jose, San Francisco, Yuba-Sutter), Nevada (Reno) and Oregon (Medford). These franchises are the backbone of the Golden State League and its foundation now and in the future. All teams affiliated with the GSCBL showcase some of the top talent in the country.