MEDIA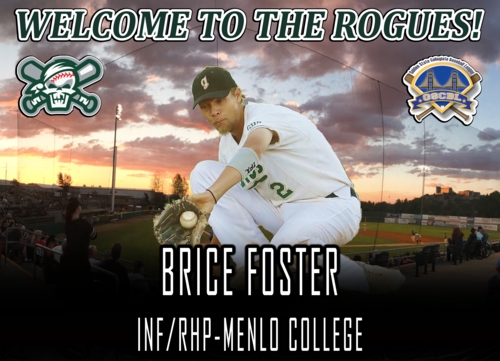 05/07/2019 9:43 AM
Article By: Jonathan Kurman
MEDFORD, Or -- The Medford Rogues have signed Brice Foster from Menlo College for the 2019 season. Foster was a stud in the batting order and on the mound for the Klamath Falls Gems in the summer of 2018, and has continued to display his talented, versatile skillset during the school year.
Foster batted .308 with 37 RBI and 30 runs scored in 195 plate appearances for the Gems last summer. At Menlo College, Foster has a career .312 batting average with 47 RBI and 38 runs scored in 263 at bats.
Foster has been described as "the ultimate Swiss-Army knife." He appeared in 43 games for the Menlo Oaks and made 42 starts, the third most on the team during his junior season. He hit .345 and drove in 27 runs, good for third best in the lineup. He went 5-2 on the mound in 13 appearances and threw one complete game. Foster had a 3.72 earned run average over 36.1 innings.
---
The Golden State Collegiate Baseball League is a 8-team, wooden bat collegiate summer baseball league founded in 2012. The GSCBL is a showcase for top college-level players, giving professional baseball scouts a chance to see prospective pros playing against each other.
The GSCBL brings highly competitive collegiate baseball to mid-sized communities throughout the West while featuring affordable family entertainment. The GSCBL will have franchises in California (Alameda, Petaluma, Sacramento, San Jose, San Francisco, Yuba-Sutter), Nevada (Reno) and Oregon (Medford). These franchises are the backbone of the Golden State League and its foundation now and in the future. All teams affiliated with the GSCBL showcase some of the top talent in the country.