MEDIA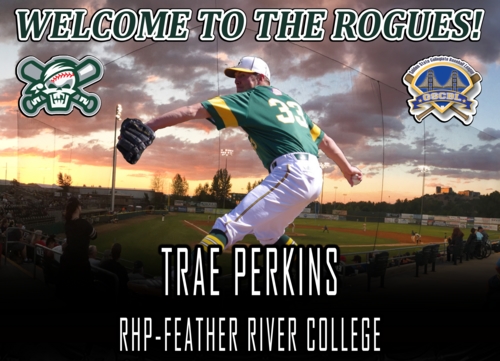 05/21/2019 10:30 AM
Article By: Jonathan Kurman
MEDFORD, Or. -- The Medford Rogues have signed Shady Cove native Trae Perkins from Feather River College for the 2019 season.
Perkins had a 2.08 ERA and one Win and seven strikeouts in nine relief appearances for the Golden Eagles. A student on and off the field, Perkins was named to the 2019 Golden Valley Conference All-Academic Baseball team. Perkins joins his Golden Eagles teammate Sebasten Boivin on the Rogues 2019 roster.
Perkins went to school at Eagle Point High School alongside current Medford Rogues pitcher Preston Johnson in 2017. Perkins was a multi-sport athlete at Eagle Point, playing baseball, basketball, and football.
---
See Johnson and the rest of the 2019 Medford Rogues play this season at Harry & David Field as they take on the Golden State Collegiate Baseball League. Single game tickets are on sale now, and available online at no additional cost. CLICK HERE to be taken to our online ticket portal.
The Golden State Collegiate Baseball League is a 8-team, wooden bat collegiate summer baseball league founded in 2012. The GSCBL is a showcase for top college-level players, giving professional baseball scouts a chance to see prospective pros playing against each other.
The GSCBL brings highly competitive collegiate baseball to mid-sized communities throughout the West while featuring affordable family entertainment. The GSCBL will have franchises in California (Alameda, Petaluma, Sacramento, San Jose, San Francisco, Yuba-Sutter), Nevada (Reno) and Oregon (Medford). These franchises are the backbone of the Golden State League and its foundation now and in the future. All teams affiliated with the GSCBL showcase some of the top talent in the country.