MEDIA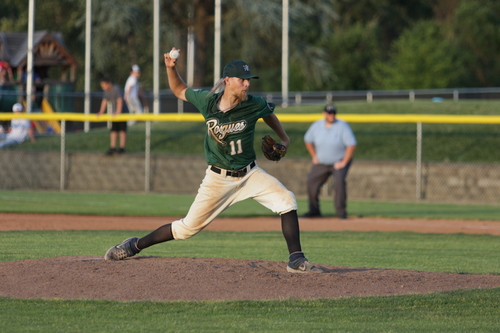 06/01/2019 9:12 PM
Article By: Jonathan Kurman
MEDFORD, Ore. – The Medford Rogues (3-0) defeated the California Bees (0-3) 12-4 at Harry & David Field on Saturday night.
910 fans and 52 dogs were on hand tonight to watch their Rogues win for the third time in as many games this season.
Last night, it was Omar Ortiz (Vanguard University) who gave the Rogues the early lead with a bases clearing double. Tonight, it was Aki Buckson (Bellevue College) who doubled to clear the bases in the bottom of the fourth to score Ortiz, Medford native Josh Berman (Texas A&M Corpus Christi), and Johnny Radomskiy (Presentation College). That double by Buckson gave the Rogues a 4-2 lead, which they would not relinquish.
Brice Foster (Menlo College) pitched four innings of two-hit ball and struck out three to pick up the win.
Coach Sean Gallagher said after the game, "I think the team is exceptional. We've got some experienced guys who are really, really polished. And we've got some guys who are still green, so it's a good mesh of the older guys, the guys who have more experience, teaching the younger guys. I am just trying to bring the energy so that they all have fire. They get out there and play fearlessly. I loved how Brice Foster, a two-way guy, doesn't throw very hard, but he comes in with a fire in his eyes, funky as can be, and he just sequenced really, really well. I like to see that from a kid who doesn't get too many opportunities to be on the mound…. We've got to focus on not missing signs. We're still missing a lot of signs and being over aggressive. We've got to temper that and know when to go and when not to go."
BJ Wyche (Presentation College), who came on in relief in last night's game, started on the mound for the Rogues tonight. He went four innings and struck out five, but did not factor into the decision.
For the full box score: CLICK HERE