MEDIA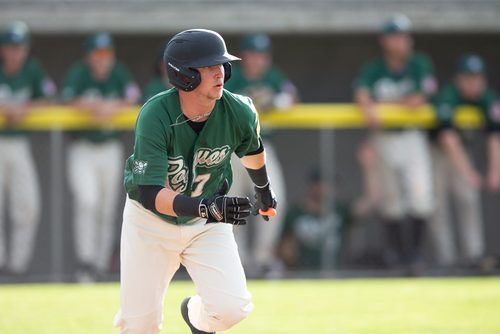 06/03/2019 8:12 PM
Article By: Jonathan Kurman
SPARKS, Nev. – The Medford Rogues (5-0) defeated the Reno Rams (0-1) 18-5 at Golden Eagle Sports Complex on Tuesday afternoon.
Aki Buckson (Bellevue College) hit a two-run home run in the first inning, the first of the year for the Medford Rogues.
Joe Johnson (Vanguard University) got in on the home run party in the seventh inning with a three-run shot.
Starter Chris D'Amico (Presentation College) went six strong innings. He allowed just two hits and one run, and struck out six in the win.
Colton Harris (Dixie State University) came on in relief in the seventh inning and picked up right where D'Amico left off. Harris allowed just one hit and struck out three in two innings of relief.
With the Rogues up by 17 heading into the bottom of the ninth, Ashland native Ty Mulholland (Presentation College) came into the game to pitch the final three outs. Mulholland sat down the first two batters of the inning and eventually shut the door on the Rams."
Coach Sean Gallagher said after the game "Chris D'Amico was unbelievable today. He's learning to spot his pitches and sequence properly. The key to pitching is not velocity; it's location and pitching, and Chris has both of those. We've paired him with some of the best catchers in the league to help frame his pitches, which makes him even more effective. He looked incredible out there on the mound today, and I am excited to see him build on what has been two terrific starts for us.
Gallagher continued, "Colton Harris reminds me a lot of Mariano Rivera. Rivera discovered his cutter by accident, and it made him a Hall of Famer. Chris has been searching for an off-speed pitch to compliment his fastball and slider. He threw a changeup for the first time today and induced a ton of swinging strikes and weak contact. I truly feel that this changeup could completely change Colton's career."
For the full box score: CLICK HERE
(The Home team is responsible for uploading final box score to Pointstreak)