MEDIA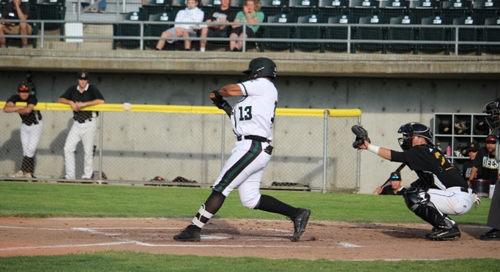 06/05/2019 3:48 PM
Article By: Jonathan Kurman
SPARKS, Nev. – The Medford Rogues (6-0) defeated the Reno Rams (0-2) 13-12 at Golden Eagle Sports Complex on Wednesday afternoon.
It was a wild end to a windy Wednesday in the final game of the two-game series. The Rogues squandered a six-run lead in the late innings and headed into the top of the ninth tied 11-11. Tyler Hollow (Dixie State) hit a go-ahead solo home run, and Ryan Gamboa (University of Art - San Francisco) doubled and scored off an RBI single by Omar Ortiz (Vanguard University).
Colton Harris (Dixie State) picked up his first save of the year.
Peter Mendazona (Feather River College) hit a two-run home run in the fifth inning to score Brice Foster (Menlo College), his first of the year.
Travis Danielson (Menlo College) doubled to lead off the second inning, stole third, and then scored on a throwing error by the Rams catcher. That kicked off a five-run second inning for the Rogues.
Turner Olson (Chico State) made a terrific grab against the centerfield fence in the first inning to rob the Rams of a couple of runs.
Central Point native Sebasten Boivin (Feather River College) allowed four runs on four hits and struck out four in five innings of work, but had to settle for the no decision.
For the full box score: CLICK HERE
(The Home team is responsible for uploading final box score to Pointstreak)