MEDIA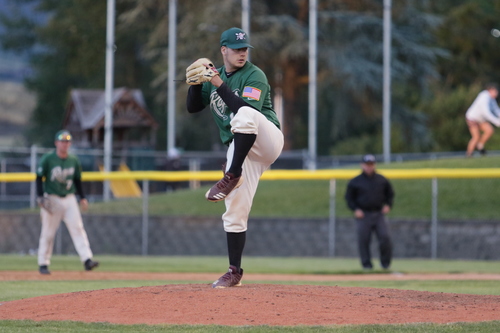 06/06/2019 9:23 PM
Article By: Jonathan Kurman
MEDFORD, Ore. – The Medford Rogues (7-0) defeated the San Francisco Seagulls (4-1) 7-1 at Harry & David Field on Thursday night.
The Medford Rogues looked happy to be back home at Harry & David Field; they turned a triple play to start the game. With runners on first and second and Seagulls designated hitter Kai Moody at the plate, the Seagulls runners took off on the pitch. The ball was hit softly in the air to Rogues first baseman Joe Johnson (Vanguard University) who caught the ball for out number one, stepped on first base for out number two, and tossed the ball to shortstop Caleb Broughton (Bucknell University) who stepped on second for the third out.
Rogues pitchers struck out a season high twelve batters en route to their seventh straight win as they extended their franchise best start to a season.
Phoenix, OR native, returning Rogues pitcher, and Great West League Champion Aaron Hutchinson (Campellsville University) made his first career start for the Rogues and was dominant. He struck out seven and allowed just one run on four hits over six innings and picked up the win, including five straight strikeouts over the second and third innings.
"First inning was a little rough, definitely got a little nervous out there. But I hunkered down, figured it out, and started pounding that zone," said Hutchinson. "I found out I was pitching right before the game. I didn't really get to prepare. I went with the flow and locked it in. My toughest at-bat was with two on and nobody out in the first inning. I was struggling to find the zone, but luckily, we got a triple play, which was really convenient. I got all the bad stuff out of the way, my team had my back, and I went out there and do what I do."
Outfielder Turner Olson (Chico State) made another outstanding defensive play. He went airborne on an all-out dive in left-centerfield to rob Moody of extra bases in the fourth inning.
For the full box score: CLICK HERE