MEDIA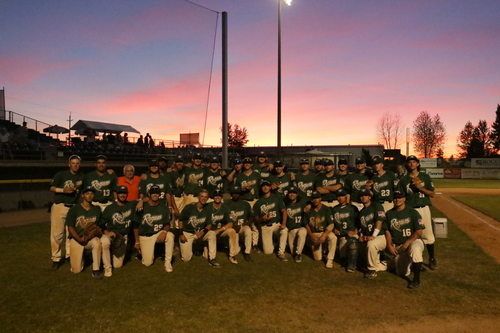 06/10/2019 8:52 PM
Article By: Jonathan Kurman
MEDFORD, Ore. – The Medford Rogues (11-0) defeated the Yuba-Sutter Gold Sox (5-4) 6-1 on Monday night at Harry & David Field.
Starting pitcher and Central Point native Sebasten Boivin (Feather River College) allowed just one unearned run and struck out three to pick up the win. Colton Harris (Dixie State) went two and a third innings and struck out four in a row in relief.
The game was tied 1-1 before Omar Ortiz (Vanguard University) drove in the go ahead run, Aki Buckson (Bellevue College), in the sixth inning. Buckson (Bellevue College) had an RBI and two runs scored in the win.
"Honestly, I was going up there with the same mentality: just get the job done," said Ortiz, of his go-ahead RBI single. "I didn't care what the result was. I was aggressive, I saw a pitch up, and I executed… We're on a hot streak right now. We're just going out there and having fun. Individually, we are still pushing ourselves. We are grinding out every at bat, and even when we start out cold, we find a way to come through."
Shortstop Caleb Broughton (Bucknell University) made an all-out diving grab on a line drive hit by Gold Sox third baseman Isaac D'Augustino to end the fifth inning.
Rogues pitchers have allowed just seven runs over the last five games.
For the full box score: CLICK HERE