MEDIA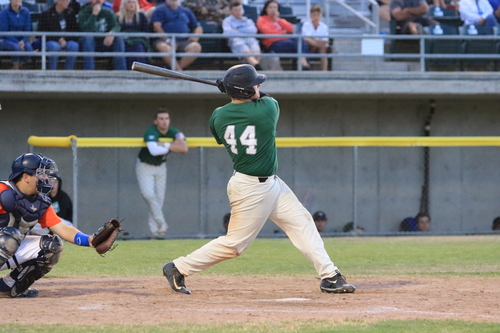 06/21/2019 8:35 PM
Article By: Jonathan Kurman
MEDFORD, Ore. – The Medford Rogues (17-3) fell to the Sacramento Heat (8-8) 10-6 on Friday night at Harry & David Field.
Vanguard University Lions Maxx Mahon, Aki Buckson, and Omar Ortiz combined for five extra base hits, four runs scored, and all six RBI for the Rogues in the loss.
In the second inning, Heat first baseman Anthony Lucchetti hit a frozen rope line drive off the right field fence. Right Fielder Devon Canty (Menlo College) played the ball perfectly off the fence and fired a throw on the fly to second base, where Rogues shortstop Caleb Broughton (Bucknell University) applied the tag in time on Lucchetti who tried to leg out a double.
Broughton and Rogues catcher Ben Kiefer (University of Northern Alabama) both got hit by a pitch in the sixth inning to put two on for Buckson, who came on as a pinch hitter. He tripled to center field to give the Rogues their first lead of the game.
Mahon then crushed a 1-0 pitch over the left field wall to give the Rogues a 4-1 lead.
Starting pitcher Colton Harris (Dixie State University) allowed just one run over seven innings but was unable to record an out in the eighth inning. Every single batter in the Heat lineup reached safely and scored in the eighth, in what was ultimately the deciding factor in the game.
For the full box score: CLICK HERE
Saturday, June 22nd, is Military Appreciation Night at Harry & David Field. We encourage our fans come out to our second themed Jersey Night and help us support the troops. We will be hosting a themed jersey auction during the game, with proceeds benefiting the US Veterans Motorcycle Club.
We will have tanks outside the ballpark, a motorcycle parade on the field, there will be a 50/50 raffle supporting the organization, and more!
There will also be military representation present at the ballpark, including the Army, Navy, and the Marine Corps.
The US Veterans Motorcycle Club's Mission Statement is as follows:
"Our mission is to support our returning servicemen and The U.S. Veterans Motorcycle Club is on a mission to serve our Veterans through the challenges they may be facing from illness, isolation or traumatic life experience. Each Veteran in need has a unique life story and a unique set of needs and when it comes to the needs of America's Veterans, our mission is challenging to say the least. We focus on respectful inquiry, compassionate listening and grateful acknowledgement. We as veterans know how to accompany and guide America's Veterans and their families through their challenges toward a more peaceful ending. We believe in the opportunity to work together in unity and cooperation for the betterment of veteran causes and the motorcycle community. We gather to coordinate with like-minded individuals and groups, forging relationships and fostering communications to present a united front for all veterans and motorcyclists and to promote unity and cooperation in pursuit of shared interests! We are a veterans and motorcyclists club conceived by veterans and motorcyclists, in this, we will work to be the best we can be in everything we do!"