MEDIA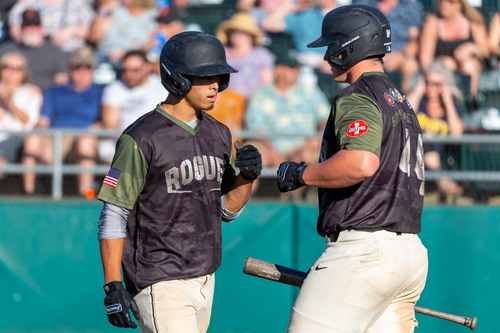 06/22/2019 8:22 PM
Article By: Jonathan Kurman
MEDFORD, Ore. – The Medford Rogues (18-3) defeated the Sacramento Heat (8-9) 18-2 on Saturday night at Harry & David Field.
Nearly 1,000 fans joined the Rogues in honoring our service members past and present on Military Appreciation Night. The Rogues wore special Military Themed jerseys that featured all five branches of the military. The jerseys were auctioned off during the game, with proceeds benefiting the US Veterans Motorcycle Club.
Aki Buckson (Vanguard University) went 2-3 with an RBI double, a stolen base, and four runs scored in the win. Buckson is 10-12 with six extra base hits, seven RBI, five stolen bases, and 11 runs scored in his last five games.
Starting pitcher Aaron Hutchinson (Campellsville University) picked up his fourth win in as many appearances. He went five innings and struck out four in the victory.
Centerfielder Jesse Spangler (Presentation College) made an all-out diving grab in left center field to end the ballgame.
Fans enjoyed real life military vehicles parked outside the ballpark, a motorcycle parade on the field before the game, and a special pre-game ceremony where the Rogues honored all service members in attendance. All service members past and present and their families received free entry to the game tonight.
The Army, Navy, Marine Corps, and US Veterans Motorcycle Club were all represented tonight.
For the full box score: CLICK HERE
The US Veterans Motorcycle Club's Mission Statement is as follows:
"Our mission is to support our returning servicemen and The U.S. Veterans Motorcycle Club is on a mission to serve our Veterans through the challenges they may be facing from illness, isolation or traumatic life experience. Each Veteran in need has a unique life story and a unique set of needs and when it comes to the needs of America's Veterans, our mission is challenging to say the least. We focus on respectful inquiry, compassionate listening and grateful acknowledgement. We as veterans know how to accompany and guide America's Veterans and their families through their challenges toward a more peaceful ending. We believe in the opportunity to work together in unity and cooperation for the betterment of veteran causes and the motorcycle community. We gather to coordinate with like-minded individuals and groups, forging relationships and fostering communications to present a united front for all veterans and motorcyclists and to promote unity and cooperation in pursuit of shared interests! We are a veterans and motorcyclists club conceived by veterans and motorcyclists, in this, we will work to be the best we can be in everything we do!"