MEDIA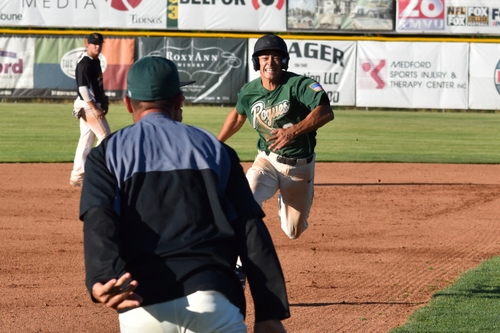 06/28/2019 10:35 PM
Article By: Jonathan Kurman
MARYSVILLE, Ca. – The Medford Rogues (21-6) defeated the Yuba-Sutter Gold Sox (19-9) 3-2 at Colusa Casino Stadium on Saturday night.
Maxx Mahon (Vanguard University) crushed a 3-2 pitch over the left field wall with Omar Ortiz (Vanguard University) aboard for his team-high fourth home run and team-high 23rd and 24th RBI.
Starting pitcher Jesse Spangler (Presentation College) gave up a leadoff home run to Kenny LeBeau, and then hit the next batter, Michael Boomgarden, with a pitch. Boomgarden stole second, then third, and then scored on an RBI sacrifice fly off the bat of Brandon Motheral.
Spangler, catcher Ryan Gamboa (Academy of Art University), and second baseman Tyler Hollow (Dixie State University) turned a strike 'em out, throw 'em out double play in the fourth inning.
Johnny Radomskiy (Presentation College) hit a laser to left field in the top of the fourth inning. Gold Sox left fielder Kyle Boomgarden ran full speed into the left field wall tracking the line. He crumpled to the ground with the ball lying next to him. Radomskiy came around home for a go-ahead inside the park home run. After a 10-minute delay, Boomgarden would be helped up to his feet by his brother and Gold Sox centerfielder Michael Boomgarden and walked off the field.
Spangler finished the game with six strikeouts, four walks, and two runs allowed.
Relief pitcher BJ Wyche (Presentation College) came on relief of Spangler and pitched three scoreless innings heading into the ninth. Wyche struck out the first batter but gave up a one-out triple to Avery Shugrue. Brice Foster (Menlo College) came on in relief. He got Gold Sox leadoff hitter Kenny LeBeau to ground out softly to second base. Hollow looked Shugrue back to third before firing to first to retire LeBeau. After an 11-pitch battle, Foster walked Michael Boomgarden to bring up Bill Ralston. Boomgarden stole second and represented the game-winning run at second base. On a 1-2 pitch, Foster got Ralston strike out swinging on a high fastball to end the game and the Rogues 3-game losing streak.
For the full box score: CLICK HERE
The three-game series between the Rogues and the Gold Sox will conclude on Sunday at 1:00pm. On Monday, Rogues will play a doubleheader against the Sacramento Heat at McBean Memorial Park in Lincoln, CA. After the road trip, the Rogues will host the San Francisco Seals for a one-game, non-league series on Tuesday, July 2nd. Tuesday, July 2nd is Red, White, and Blue Night at Harry & David Field, featuring the largest post-game fireworks show in Medford Rogues history. Bleacher tickets are just $2 for every Tuesday home game. Tickets are available online at MedfordRogues.com.