MEDIA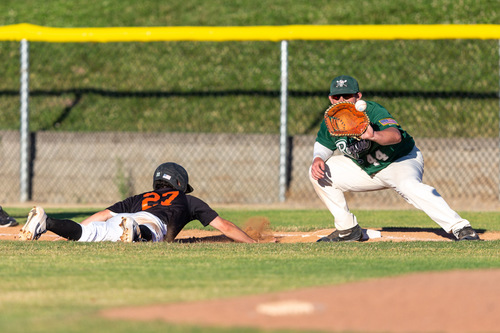 07/01/2019 8:36 AM
Article By: Jonathan Kurman
LINCOLN, Ca. – The Medford Rogues (22-7) defeated the Sacramento Heat (9-17) 5-2 in seven innings in game one of a double header at McBean Memorial Park on Monday afternoon.
The Rogues got on the board early when leadoff hitter Tre'Von Doresy (Undecided) and Turner Olson (Chico State University) hit back-to-back singles to start the game. Dorsey was driven in by an RBI single off the bat of Aki Buckson (Vanguard University).
Buckson stole his league-high 23rd base back in the third inning, but injured his left ankle sliding into third base. He was pinch ran for by Jesse Spangler (Presentation College), who scored on an RBI sacrifice fly off the bat of Joe Johnson (Vanguard University).
Pete Mendazona (Feather River College) doubled down the left field line to lead off the fifth inning. He moved to third on a sacrifice bunt laid down by Dorsey. Olson singled to left field to drive in Mendazona. Olson finished the game 3-3 with a double, an RBI single, a stolen base and a run scored.
Tyler Hollow (Dixie State University) doubled with Turner Olson aboard to drive in an important insurance run in the top of the seventh inning.
Grants Pass native and starting pitcher Chris D'Amico (Presentation College) pitched five innings, allowed one run and struck out five without issuing a free pass.
Colton Harris (Dixie State University) came on in relief and pitched two shutout innings with three strikeouts to pick up his second save of the year.
For the full box score: CLICK HERE
The two teams will play game two of the double header Monday afternoon. After Monday's doubleheader, the Rogues will travel back to Medford to host the San Francisco Seals at Harry & David Field for a one-game, non-league series on Tuesday, July 2nd. Tuesday, July 2nd is Red, White, and Blue Night at Harry & David Field, featuring the largest post-game fireworks show in Medford Rogues history. Bleacher tickets are just $2 for every Tuesday home game. Tickets are available online at MedfordRogues.com.
After playing a one game, non-league series at Harry & David Field with the Redding Ringtails, a semi-professional team from northern California, the Rogues will welcome Top Speed Baseball to Medford for the first time this season. The three-game series between the top two teams in the Golden State Collegiate Baseball League and two of the top 25 summer collegiate baseball teams in America will begin on Friday, July 5th.