MEDIA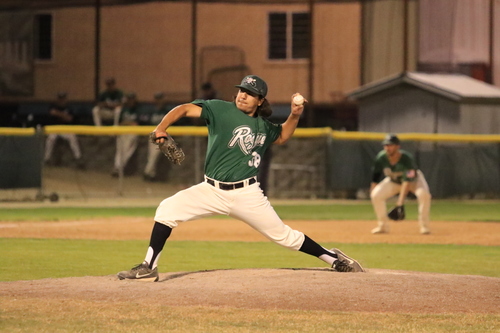 07/03/2019 8:21 PM
Article By: Jonathan Kurman
MEDFORD, Ore. – The Medford Rogues (24-7) defeated the Redding Ringtails 12-7 at Harry & David Field on Wednesday, July 3rd.
The Ringtails scored the first two runs of the game before Maxx Mahon (Vanguard University) got the Rogues on the board in the third inning. Mahon singled in Ben Kiefer (University of Northern Alabama). Mahon then stole second base and scored on the RBI single by Devon Canty (Menlo College).
Four Ringtails errors aided the Rogues in a seven-run sixth inning in which all seven runs were unearned.
Relief pitcher Gilbert Romero (Chico State) struck out the side in a 1-2-3 ninth inning.
For the full box score: CLICK HERE
After taking the 4th of July off, the Rogues will welcome Top Speed Baseball to Medford for the first time this season. The three-game series between the top two teams in the Golden State Collegiate Baseball League and two of the top 25 summer collegiate baseball teams in America will begin on Friday, July 5th. Saturday, July 6th is Paint the Park Pink Night at Harry & David Field. Saturday morning, Inspire Studios will lead a 1-hour Zumba class, starting at 9:30am. For just a $10 donation, fans can participate in the Zumba class and receive a ticket to Saturday night's game. The Rogues will be wearing special Pink Jerseys, which fans can bid on during the game. All proceeds from the jersey auction and the Zumba class benefits the Leila J. Eisenstein Breast Center. The first 500 fans in attendance will receive a free Pink Rally Towel, courtesy of Forte Clothing.