MEDIA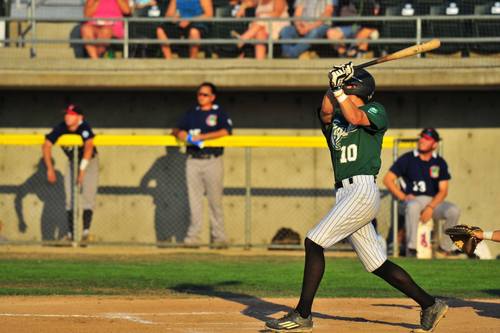 08/05/2017 10:18 PM
PORTLAND, Ore. - The Medford Rogues (40-20) defeated the Portland Pickles (31-29) 7-5 on Saturday night at Walker Stadium.
With the Rogues trailing 1-0 in the fourth, Johnny DeLaCruz (Louisiana-Monroe) hit a leadoff single to left field. Alex Isola (Yavapai) and Jake Hellweg (Bethune Cookman) walked to load the bases for Dante Gutierrez (UC San Diego).
Gutierrez hit into a double play, but DeLaCruz scored the tying run. The next batter, Connor Lowrie (Campbellsville), doubled off the center field wall to score Isola.
The Pickles tied the game on a solo home run by Pickles shortstop Daniel Lopez.
Davis Delorefice (Utah) pinch-hit in the seventh inning and reached on a fielder's choice. Clay Valenzuela-Reece (Campbellsville) singled, which advanced Delorefice to third.
Portland native Jayden Hanna (Lane CC) singled to right field, which scored Delorefice and gave the Rogues the lead.
DeLaCruz walked to load the bases, Isola walked to bring home Valenzuela-Reece, and then Gutierrez then walked to score Hanna.
The Pickles closed the gap to two runs in the eighth. In the bottom of the ninth, with the bases loaded and two outs, Peyton Fuller (Oregon) struck out Koty Fallon to win the ball game and earn his first save of the year.
Starting pitcher Nick Parr (Western Oregon) pitched five innings, gave up two earned runs, and struck out four in the no decision.
For the full box score: CLICK HERE