MEDIA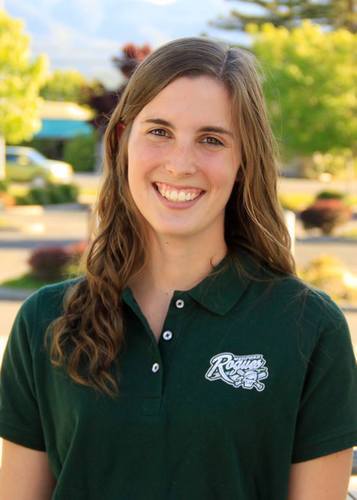 03/09/2018 2:53 AM
Article By: Jonathan Kurman
MEDFORD, Ore. – Former Rogues broadcaster Emma Tiedemann has been announced as the primary play-by-play voice and media contact of the Kansas City Royals' Class A affiliate, the Lexington Legends.

Tiedemann, who was the Broadcast and Media Relations assistant for the St. Paul Saints last season, will be replacing Keith Elkins who retired at the end of the 2017 season.

"I am absolutely thrilled to have Emma on board and part of the Lexington Legends team. Going into this off-season, we made the decision to take our game broadcast off of the radio and exclusively stream them on milb.tv. When we met Emma at the Baseball Winter Meetings in Orlando, Florida it was clear from the beginning that we had found the perfect person to lead us into this process," said Legends President/CEO Andy Shea. "As one of the very few female owned professional sports teams, we are also very proud to have the first female play-by-play analyst in the South Atlantic League and the second in all of Minor League Baseball."

With the Saints, Tiedemann was the number-two broadcaster and handled a variety of media relations duties. Prior to the Saints, Tiedemann spent two years as the Broadcast and Communications Manager for the Rogues. She broadcasted every game, including the 2015 West Coast League All-Star Game, the 2016 Great West League All-Star Game and 2016 Great West League Championship Series. In 2014 she was part of the broadcast duo for the Mat-Su Miners in Palmer, Alaska, serving as play-by-play and color analyst. She broadcasted both the Alaska Baseball League All-Star Game as well as the Top of the World Series.

Tiedemann graduated from the University of Missouri in 2015. At Mizzou, she was active with the student radio station, KCOU-FM, and Mizzou Network. She called Missouri basketball, football, baseball, softball, volleyball and soccer, but most notably the 2014 Cotton Bowl in Arlington, Texas. Tiedemann began broadcasting at the University of Texas at Dallas in high school, covering women's sports, men's basketball and baseball.

"I am so excited to be a part of the Legends front office staff," said Tiedemann. "I am eager to get in the booth this season and bring Legends baseball to fans near and far."

"I worked with Emma my first 6 months in the Medford Rogues organization," said Rogues COO Dave May. "She was great at what she did, and I had very little doubt that she could make it in professional baseball. To have another member of our organization make it to the professional level shows that Medford is a great place to play, and work.The Medford Rogues are rooting for Emma and wish her continued success."
---

2018 Flex Packs and Mini Plans are on sale now! To keep up with all the latest team news and information, like the Medford Rogues on Facebook and follow us @MedfordRogues on Twitter and Instagram.

For more information about 2018 season ticket packages call 541-973-2883 or visit www.medfordrogues.com/tickets/season-tickets