MEDIA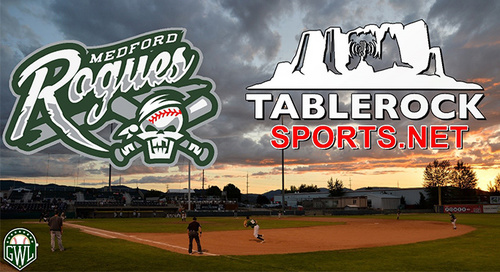 02/07/2018 1:15 PM
Article By: Jonathan Kurman
MEDFORD, Ore. – The 2017 Great West League Champion Medford Rogues have announced a broadcast partnership with TableRock Sports. For the first time ever, all Rogues home and road games this season will stream live online, for free.
"The Medford Rogues are always looking for ways to improve fan entertainment and we feel this is a step in the right direction to give our fans access to the team not only at home, but on the road," said Dave May, Rogues COO. "TableRock Sports has been the leader in streaming athletics in Southern Oregon for a number of years. We believe the quality that they provide is second to none not only in Southern Oregon but the entire West Coast."
The unique features at Harry & David Field will allow the Rogues and TableRock Sports to produce a professional, multi-camera home broadcast. Fans will be able to enjoy free, Live and On-Demand streams of Rogues games on any device with an internet connection through TableRock Sports.
"This is an exciting expansion for local sports coverage beyond our high school partners," said Joe Brett, President of TableRock Sports. "The Rogues and our Legion baseball coverage returning this summer will provide our viewers and sponsors live events all 12 months of the year." Brett also noted, "This partnership with the Rogues is an affirmation of our sponsors commitment to providing live local sports coverage to fans at no cost to viewers."
The Rogues will bring the broadcast on the road, so fans can follow the action all season long.
"This opportunity allows us not only provide access to high-quality baseball to Rogues fans, but also the fans from other teams in our league. We will have fans from Klamath Falls, Chico, Marysville, Lincoln, and San Francisco tuning in to watch their team play," said May. "And having all our games streamed online, it will give added value to our corporate partners as well."
The Rogues will be the only Summer Collegiate Baseball team on the entire U.S. West Coast to produce a professional 3-camera broadcast.
---
The Rogues kickoff their defense of their 2017 GWL championship starting on May 29th with a three-game series against the Lincoln Potters at Harry & David Field. For more information about 2018 season tickets, mini plans and group tickets please call 541-973-2883.
The Rogues 2018 Promotional Schedule will be released soon! To keep up with all the latest team news and information, like the Medford Rogues on Facebook and follow us @MedfordRogues on Twitter and Instagram.