MEDIA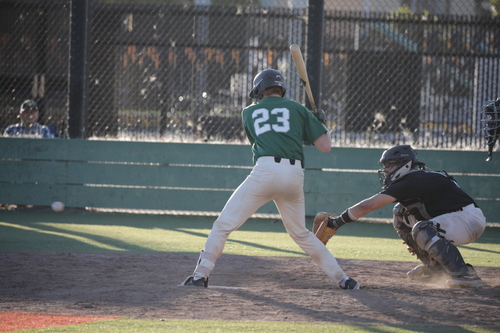 07/12/2019 7:26 PM
Article By: Jonathan Kurman
MILPITAS, Ca. – The Medford Rogues (28-12) beat the South Bay Storm (8-28) 13-4 on Friday evening at Milpitas High School.
Chris D'Amico (Presentation College) pitched five innings of one-run baseball to pick up his league-leading 7th win, and Ben Kiefer (University of Northern Alabama), Johnny Radomskiy (Presentation College), and Omar Ortiz (Vanguard University) all homered power the Rogues to a 13-4 victory over the South Bay Storm.
Medford native Travis Danielson (Menlo College) doubled to lead off the second inning for the Rogues, which kicked off a four-run inning capped by a two-RBI double off the bat of Ryan Gamboa (Academy of Art University, San Francisco).
In the top of the third inning, Pete Mendazona (Feather River College) hit a pop fly foul off the first base side in the third inning. Storm first baseman Aaron Hoch climbed up the 10ft high wire fence in foul territory and reached over it to catch the ball.
Caleb Broughton (Bucknell University) doubled in the sixth inning and then stole third. With Johnny Radomskiy at the plate, Broughton took off for home on the pitch, which sailed behind Radomskiy and allowed Broughton to steal home.
Omar Ortiz and Ben Kiefer both hit solo homeruns in the top of the seventh, and Radomskiy tacked on one of his own in the eighth.
Dylan Myers (Western Oregon University) struck out the side after allowing a runner to get to third base with nobody out in the bottom of the eighth.
Broughton finished the game 5-6 with a double, three stolen bases, and two runs scored.
Danielson went 3-4 with a double, an RBI, and two runs scored.
For the full box score: CLICK HERE
The Rogues will finish their final regular season road trip of the season Saturday against the South Bay Storm at 12:00pm. Fans can catch every game, home and on the road, on 96.1FM/580AM The Game. The Rogues will return home on Tuesday, July 16th to face off against Northwest Star Baseball Academy, kicking off an eight-game home stand, the final homestand of the season. After a two-game non-league series against Northwest Star, the Rogues will welcome the South Bay Storm to Harry & David Field for the first time this season for a weekend series starting Thursday, July 18th.