MEDIA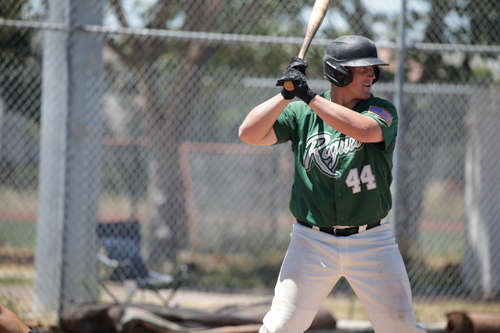 07/13/2019 1:49 PM
Article By: Jonathan Kurman
MILPITAS, Ca. – The Medford Rogues (29-12) hit a franchise record eight home runs to beat the South Bay Storm (8-29) 24-5 on Saturday afternoon at Milpitas High School.
The Rogues batted around in the second inning. It was a nine-run inning for the Rogues, capped off by a three-run home run by Omar Ortiz (Vanguard University) and a solo home run by Johnny Radomskiy (Presentation College).
Caleb Broughton (Bucknell University) had an RBI triple and a run scored in the second inning. He followed that up with a solo home run to lead off the top of the fourth.
Following the Broughton home run, Maxx Mahon (Vanguard University) walked and Omar Ortiz singled to put two on for Johnny Radomskiy, who hit his second home run of the game and third of the series.
Medford native James Turnbull (Simpson University) got in on the home run party with a solo shot of his own to leadoff the top of the fifth inning. Tyler Hollow (Dixie State University) doubled and Broughton singled to put two on for Maxx Mahon. Mahon blasted a ball over the left field fence for a three-run home run.
Later in the inning, Turner Olson (Chico State) homered to left field with Johnny Radomskiy aboard for the third home run of the inning and the seventh of the game.
Joe Johnson (Vanguard University) hit a bloop single to centerfield to lead off the eighth. He was driven in on a two-run home run off the bat of Jesse Spangler (Presentation College).
For the full box score: CLICK HERE
The Rogues will return home to Harry & David Field on Tuesday, July 16th to face off against Northwest Star Baseball Academy, kicking off an eight-game home stand, the final homestand of the season. After a two-game non-league series against Northwest Star, the Rogues will welcome the South Bay Storm to Harry & David Field for the first time this season for a weekend series starting Thursday, July 18th.