MEDIA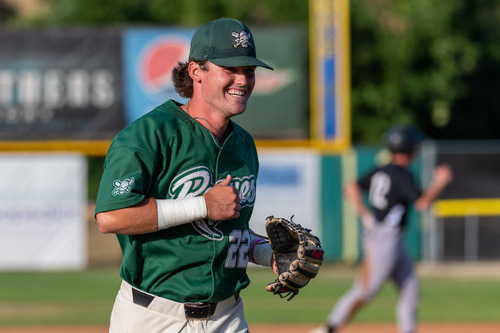 07/16/2019 3:11 PM
Article By: Jonathan Kurman
MEDFORD, Ore. – The Medford Rogues (30-12) defeated Northwest Star Baseball Academy 5-4 on Tuesday evening at Harry & David Field.
The game was scoreless until the fourth inning. In the top of the fourth, starting pitcher Jesse Spangler (Presentation College) gave up a leadoff double to Northwest Star's clean-up hitter Kase Ogata. Spangler then struck out the side to leave Ogata stranded at second.
Omar Ortiz (Vanguard University) singled in the fourth inning to extend his hitting streak to nine games. Maxx Mahon (Vanguard University) was hit by a pitch to put two aboard for Johnny Radomskiy (Presentation College), who doubled to right center to drive in the first two runs of the game.
The first two batters for Northwest Star reached against Spangler in the top of the fifth, who struck out seven in 4+ innings of work. Medford native Travis Danielson (Menlo College) came on in relief and got the Rogues out of the jam without allowing a run to score.
Celebrating his 21st birthday today, Tyler Hollow (Dixie State University) singled to start the bottom of the fifth. Catcher Ryan Gamboa (Academy of Art University) then singled to push Hollow to second. They both scored on a ground ball up the middle by Caleb Broughton (Bucknell University).
Hollow was not done, as he singled to the right side to drive in Mahon in the bottom of the sixth inning. In the top of the seventh he made a fantastic play on a flare hit in front of the second base bag. He fired across his body to first base to retire Jeremy Martin.
Northwest Star climbed back into the game in the top of the eighth inning, courtesy of two-RBI singles by Cole Posey and Connor Shaeffer.
Southpaw Gilbert Romero (Chico State) pitched a scoreless ninth inning to pick up his second save of the season.
For the full box score: CLICK HERE
The Rogues will complete the two-game non-league series against Northwest Star Baseball Academy on Wednesday. The Rogues will then welcome the South Bay Storm to Harry & David Field for the first time this season for a weekend series starting Thursday, July 18th. Saturday, July 20th is Christmas in July at Harry & David Field. Rogues players will be wearing special Christmas themed jerseys, which fans will be able to bid on during the game. Fans are encouraged to bring canned goods with them to the ballpark to donate to Access. Fans will receive $1 off the price of admissions for each canned good donated to Access. Proceeds from the jersey auction will also benefit Access.