MEDIA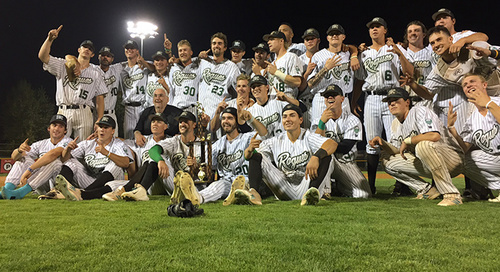 08/12/2017 9:49 PM
MEDFORD, Ore. - The Medford Rogues (2-0) defeated the Chico Heat (0-2) 7-2 on Saturday night at Harry & David Field to clinch the 2017 Great West League Championship.
Heat first baseman Marcus Wilhite hit a solo shot to right field in the second inning for the first run of the ball game.
Connor Lowrie (Campbellsville) was hit by a pitch to lead off the fourth inning. Braden Stutzman (Oregon) reached on an error, and Jayden Hanna (Lane CC) singled to load the bases.
Clay Valenzuela-Reece (Campbellsville) hit a sacrifice fly to center field, which scored Lowrie and tied the ballgame at 1-1.
The Heat retook the lead in the fifth inning on the RBI single by Bailey Zimmer.
But the Rogues answered in the bottom of the fifth. Johnny DeLaCruz (Louisiana-Monroe),
Alex Isola (Yavapai), and Jake Hellweg (Bethune Cookman) all had singles to lead off the fifth. Hellweg's single scored DeLaCruz.
Dante Gutierrez (University of San Diego) grounded to second, which allowed Isola to score.
Lowrie then delivered an RBI single to score Hellweg, which put the Rogues up for good.
The Rogues added one more in the sixth when Valenzeula-Reece stole home, and then two more in the seventh off an RBI double from Isola.
Taylor Frost (Southern Idaho) pitched a scoreless ninth inning to seal the Championship for the Rogues.
Starter Dylan Pearce (Oregon State) pitched 6.2 innings, allowed just two earned runs, and struck out six in the win.
For the full box score: CLICK HERE
The win caps off a season that saw 27 Rogues team and indivual records broken, a walk-off grand slam, a robbed home run catch, a perfect game, and the team being recognized as the 14th best in the entire nation.
This is the first Championship in Medford Rogues team history.