MEDIA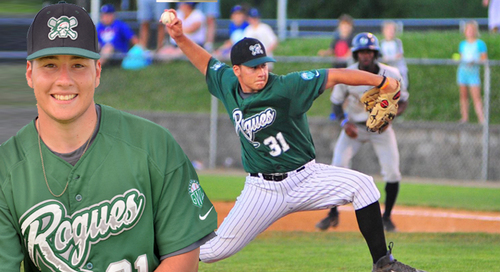 10/30/2017 2:55 PM
MEDFORD, OR: 2017 GWL champion and Phoenix native Aaron Hutchinson will return to the team for the 2018 season.

Hutchinson went 2-1 with a 2.62 ERA and allowed just eight walks while striking out 31 batters over 37.2 innings in the 2017 regular season.

"He's a very competitive kid and attacks hitters," said Rogues Manager Tyler Graham. "He can command all three of his pitches. We are looking forward to having him back in a Rogues uniform this summer."

Hutchinson plays fall ball for Lane Community College. Last season, he posted a 1.00 ERA and 15 strikeouts in 27 innings pitched en route to a 3-0 record.

"Aaron is an athlete that I have known since he was nine years old. It has been great seeing him mature into a high-level college pitcher and we are lucky to have him as a part of our organization again this season," said Dave May, Rogues Director of Sales.

Hutchinson was one of the most consistent pitchers for the Rogues last summer. He led all Rogues relievers in innings pitched, was 2nd in ERA (trailing only Taylor Frost's 0.00 ERA), and notched three saves, again only trailing Frost for the team lead. Hutchinson also lead the team in multi-inning relief appearances with 12, including a one-hit, four-inning save to help the Rogues mount a late-inning rally to defeat the Lincoln Potters on July 28th.