MEDIA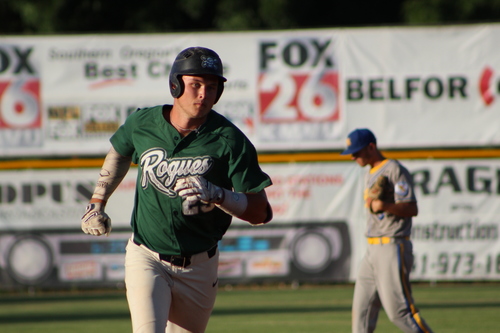 07/08/2018 8:50 PM
MEDFORD, Ore. – 1,017 were hand to witness the Rogues bat around in an eight-run fourth inning that included a two-run home run by first baseman Daniel Nist (Cal State Bakersfield) and a grand slam by third baseman Blake Baumgartner (UC San Diego).
Medford native and Great West League batting leader Cole Carder (University of Antelope Valley) led off the seventh inning with a solo home run. The Rogues would score three more in the seventh and batted around for the second time in the game.
The Rogues have scored 28 runs on 29 hits over the last two games.
For the full box score: CLICK HERE
Monday kicks off a three-game series with the San Francisco Seals. Kids 12 and under get in for FREE on Mondays! For all us kids older than 12 years old, you can get your tickets HERE
You can watch every pitch of every Rogues game this season online for free on TableRockSports.net