MEDIA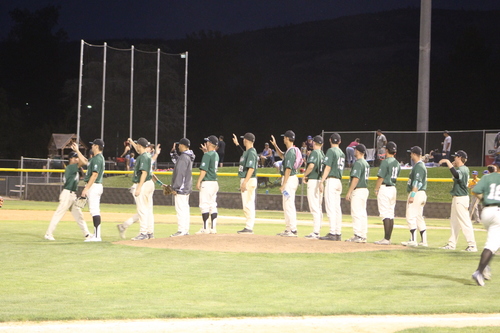 08/03/2018 8:19 PM
Article By: Jonathan Kurman
MEDFORD, Ore. – Mitch Neunborn (North Iowa Area CC) homered twice and Blake Baumgartner (UC San Diego) got in on the home run party to power the Rogues past the Gold Sox, 9-4.
It was a picturesque day at Harry & David Field. Blue clear skies, fresh air, and a pleasant 86 degrees at first pitch were enjoyed by 1,142 people and 55 dogs, who were on hand to welcome the Rogues back for their first home game since July 19th.
Neunborn and Baumgartner each hit a two-run home run in the seventh inning following a walk to the batter in front of them.
For the full box score: CLICK HERE
For the full game highlights: CLICK HERE
You can watch every pitch of every Rogues game this season online for free on TableRockSports.net
The final game of the Great West League regular season is Saturday, August 4th. It is Christmas at Harry & David Field! The players will be wearing special Christmas themed jerseys, which will be up for auction during the game. 100% of the proceeds benefits Access in Medford. We invite our fans to bring canned goods to Harry & David Field to be donated to Access. For each canned good item donated, fans will receive $1 off the price of admission (limit 12).
To purchase tickets for Christmas at Harry & David Field, call the Rogues Front Office at 541-973-2883.
The Medford Rogues have clinched a playoff berth for the third consecutive year, tied for the most of any franchise in league history. Your Rogues will defend their Great West League Championship against the Lincoln Potters at Harry & David Field on Sunday, August 5th.
The first 500 fans in attendance will receive a free 2018 Team Poster, courtesy of Harry & David.
For tickets to the Rogues first playoff game against the Lincoln Potters: CLICK HERE
Tickets that have been purchased for cancelled games can be exchanged for equal or lesser value to any future 2018 Rogues home game on a first come, first serve basis. Please call the Rogues Front Office at 541-973-2883 between the hours of 10am-3pm to exchange tickets from cancelled games for equal or lesser value for any future 2018 home game.