MEDIA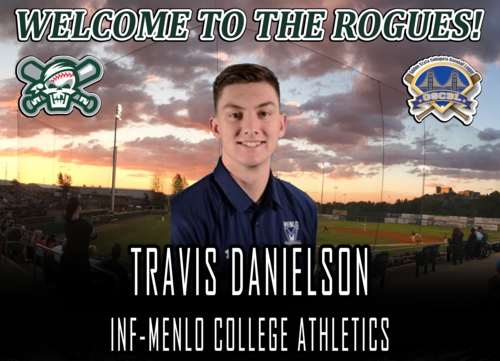 05/01/2019 6:26 PM
Article By: Jonathan Kurman
MEDFORD, Or -- The Medford Rogues have signed Medford native Travis Danielson for the 2019 season. Danielson won a state championship for St. Mary's High School under Rogues head coach Sean Gallagher and alongside Joe Johnson. He currently plays for Menlo College after playing for Davis & Elkins College, West Virginia.
Danielson started 31 of 39 games for the Menlo Senators last season. He batted .250 with 9 doubles, a home run, and 17 RBIs. Last summer, Danielson played for the Klamath Falls Gems in the Great West League. He batted .264 with 42 hits, 11 doubles, 30 RBI, 39 runs scored, and four home runs in 159 at bats last summer.
"One of the most impressive swings that you will see from a 6'4, 210 lb ballplayer," said Gallagher. "The extension that he gets is incredible and with his strength and leverage, he will no doubt bring big power to the lineup this season. He is on the verge of breaking out in his career and I believe it will begin this summer season with the Rogues."
Danielson allowed just one earned run and struck out four over six innings, and earned the win in the 2017 State Championship game for the St. Mary's Crusaders. He hit the go ahead RBI single to send St. Mary's to the state semifinals earlier in the postseason.
In four varsity seasons, Danielson hit .414 with 32 doubles, three triples, 11 home runs, and 85 RBI. As a pitcher, Danielson went 11-2 with a 1.39 ERA with 58 strikeouts and 18 walks in his high school career.
---
The Golden State Collegiate Baseball League is a 8-team, wooden bat collegiate summer baseball league founded in 2012. The GSCBL is a showcase for top college-level players, giving professional baseball scouts a chance to see prospective pros playing against each other.
The GSCBL brings highly competitive collegiate baseball to mid-sized communities throughout the West while featuring affordable family entertainment. The GSCBL will have franchises in California (Alameda, Petaluma, Sacramento, San Jose, San Francisco, Yuba-Sutter), Nevada (Reno) and Oregon (Medford). These franchises are the backbone of the Golden State League and its foundation now and in the future. All teams affiliated with the GSCBL showcase some of the top talent in the country.