MEDIA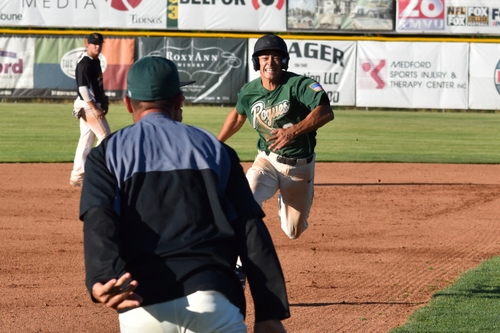 06/02/2019 9:06 PM
Article By: Jonathan Kurman
MEDFORD, Ore. – The Medford Rogues (4-0) are off to their best start in franchise history after defeating the California Bees (0-4) 7-5 at Harry & David Field on Sunday night.
For the fourth consecutive game, the Bees scored first. And for the fourth consecutive game, the Rogues battled back in the late innings to come away with the victory.
The Rogues tied the game twice in the 7th and 8th innings, and finally broke through in the 8th on a Josh Berman (Texas A&M Corpus Christi) double to score Aki Buckson (Bellevue College) and give the Rogues their first lead of the game.
Brice Foster (Menlo College) picked up his second win in as many games. He came on in relief in the eighth inning and struck out three over the final two innings.
"In the past, I have closed in close games. I'm used to it; I like the pressure. I've done both (hit and pitch) for my school, Menlo College. It was a great thing to be able to come out here and have a ton of fun." said Foster. "I think the (season) is going great, we have some local guys and we have some people from California, Washington, all over the place. We got a few practices in, everybody's getting along well, so I think it's going to be (a) really good (season). Looking forward, I think we need to stay aggressive on the base paths like we have these first couple of games. Shows we can exploit some people and put pressure on the defense which is going to be huge this year."
For the full box score: CLICK HERE
The Rogues look to keep the winning streak alive on the road this Tuesday and Wednesday against the Reno Rams. All road games will be broadcasted on 96.1FM/580AM The Game and simulcast in HD on TableRockSports.net. Start time for both games is 1:00pm.
The Rogues return to Harry and David Field on Thursday June 6th vs the San Francisco Seagulls for a Thirsty Thursday.