MEDIA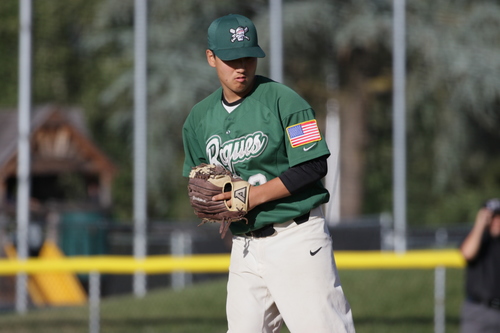 06/07/2019 8:27 PM
Article By: Jonathan Kurman
MEDFORD, Ore. – Ashland native Ty Mulholland (Presentation College) was one out away from a complete game as the Medford Rogues (8-0) held on to defeat the San Francisco Seagulls (4-2) 4-3 on Friday night at Harry & David Field.
Harry & David Field and the surrounding area lost power at around 6:15pm, but that did not stop Mulholland and the Rogues from their eighth consecutive win. Devon Canty (Menlo College) hit a three-run home run off the Harry & David scoreboard in left field to score Aki Buckson (Bellevue College) and Medford native Josh Berman (Texas A&M Corpus Christi) in the fourth inning.
That was all Mulholland would need, as he struck out four and picked up the win in his first start on the mound in his collegiate career. Mulholland is listed as a catcher on the Rogues roster.
"Oh, I'm tired right now," said Mulholland after going 8.2 innings. "But I feel pretty good. It always feels good to get the 'W'. (My mentality was) just throw strikes, get the job done, see how far I could go… I'm not really a pitcher, so I just went out there and had fun."
Brice Foster (Menlo College) came on in relief to get the final batter after the Seagulls scored two in the ninth and had the tying run just 90 feet from home. Foster got Seagulls left fielder Ben Guess to pop out to first base to end the game and earn his first save of the year.
For the full box score: CLICK HERE
Tomorrow night is Donut Appreciation Night at Harry & David Field. Your Rogues will be wearing all-new Donut themed jerseys that will be auctioned off during the game. All proceeds from the jersey auction will be benefiting Rogue Valley Timbers Soccer Club, a local youth non-profit soccer organization. Fans will get to enjoy special donut themed concession items and other fun donut-themed prizes. Tickets are available online at MedfordRogues.com