MEDIA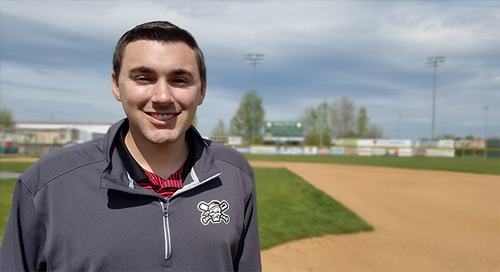 04/05/2017 3:15 PM
MEDFORD, Ore. – The Medford Rogues are pleased to welcome former sports TV personality Brian Schnee to the organization as Director of Communications & Media Relations.
"To date, Brian is easily one of our biggest signings of the season!" Rogues Acting General Manager Carolyn Birch said. "We are so lucky to have such a talented and passionate person at the helm of our communications department."
Brian will assist local and national media outlets with coverage strategy pertaining to Medford Rogues baseball and events held at Harry & David Field. He'll also handle social media branding, creative partnership initiative along with story and editorial content creation on MedfordRogues.com.
Schnee is no stranger to Harry & David Field having spent nearly the last two years as Sports Director at KDRV NewsWatch 12 in Medford.
"Brian is uniquely skilled in his background and ability," Birch said. "We look forward to how he will collaborate with local media to share stories about the Rogues."
Contact: Brian Schnee, Broadcast@MedfordRogues.com or (541) 973-2883.
Don't miss any of the action this summer! The Medford Rogues open their fifth season at Harry & David Field against the Yuba City Bears on May 30th. Get your tickets TODAY: CLICK HERE.
ABOUT THE GREAT WEST LEAGUE
The Great West League is one of the premier summer collegiate wood bat leagues in North America, providing a professional, minor league-like atmosphere for top college players seeking professional baseball careers, while providing affordable family entertainment. The Great West League plays from June-August spans over Oregon and California and is comprised of the Medford Rogues, Chico Heat, Portland Pickles, Lincoln Potters, Marysville Gold Sox and Yuba City Bears.