MEDIA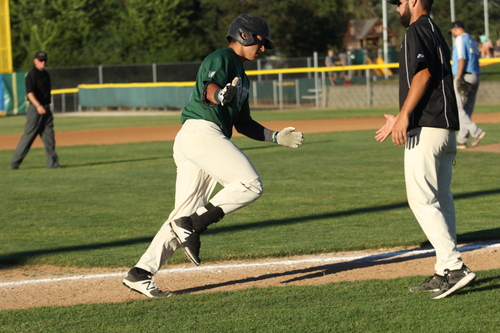 07/10/2018 9:21 PM
Article By: Jonathan Kurman
MEDFORD, Ore. – Oregon Duck commits James Bell and AJ Miller accounted for the first five and six of the 11 runs for the Rogues as they flew past the Seals, 11-3.
AJ Miller belted a two-run home run third inning, his second of the year and the 15th home run hit at Harry & David Field by the Rogues.
Medford native and Great West League Player of the Week Cole Carder (University of Antelope Valley) went 1-3 with three runs scored. He now leads the League in runs scored with 38.
For the full box score: CLICK HERE
The Rogues will wrap up this three-game series with the Seals tomorrow night. First pitch of the rubber match will be at 6:35pm.
You can watch every pitch of every Rogues game this season online for free on TableRockSports.net
Harry & David Field is currently in contention for being voted one of the best summer-collegiate ballparks in America. Voting for the Sweet 16 is live now. Vote daily on all your devices for Harry & David Field by clicking HERE. Fans who vote for Harry & David Field can send the Medford Rogues a screenshot via email or on social media to be entered to win a pair of 2019 Season Tickets. Voting for the Sweet 16 ends on Saturday at noon.