MEDIA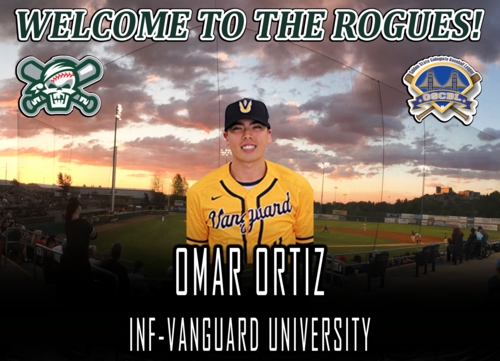 05/07/2019 10:08 AM
Article By: Jonathan Kurman
MEDFORD, Or -- The Medford Rogues have signed infielder Omar Ortiz from Vanguard University for the 2019 season.
Ortiz batted .329 with 53 hits, 11 doubles, 8 home runs, 36 RBI and 23 runs scored in 47 games this season for the Lions. Ortiz also finished with a team high.559 slugging percentage.
"I made a road trip to Costa Mesa to watch Vanguard play and saw Omar hit a bomb half way up the netting and immediately wanted to get him to Medford," said Rogues head coach Sean Gallagher. "This kid has big time power, great defensive skills at third base, and I could not be more excited that he will be playing in Medford this summer. This kid is truly 20 big swings from the draft and we will encourage him to the fullest to start working on that approach here this summer."
---
The Golden State Collegiate Baseball League is a 8-team, wooden bat collegiate summer baseball league founded in 2012. The GSCBL is a showcase for top college-level players, giving professional baseball scouts a chance to see prospective pros playing against each other.
The GSCBL brings highly competitive collegiate baseball to mid-sized communities throughout the West while featuring affordable family entertainment. The GSCBL will have franchises in California (Alameda, Petaluma, Sacramento, San Jose, San Francisco, Yuba-Sutter), Nevada (Reno) and Oregon (Medford). These franchises are the backbone of the Golden State League and its foundation now and in the future. All teams affiliated with the GSCBL showcase some of the top talent in the country.