MEDIA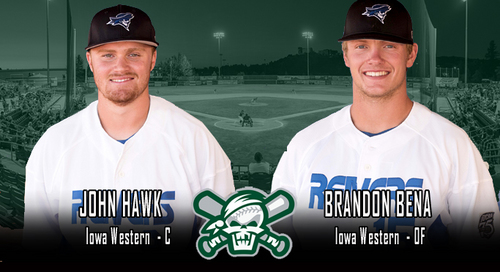 01/15/2018 2:07 PM
MEDFORD, Ore. – The 2017 GWL Champion Medford Rogues have announced the signing of catcher John Hawk and outfielder Brandon Bena, both of whom play for Division I Baseball factory, Iowa Western Reivers.

Hawk is a natural born winner. His accolades include two American Legion State Championships, one Nebraska 5A State Championship, and 2nd Team All-State in high school. Last season for the Reivers, Hawk hit .324 with 12 hits, 13 runs, 11 RBI, three stolen bases, and only three strikeouts in 19 games. Behind the plate, Hawk threw out 5 of 9 would-be base stealers last season.

Bena is a big kid, standing in at 6'2, 205lbs, who had an even bigger senior year in high school. He was named to the Nebraska All-State team in 2015 and 2016, and the Super State team in 2016 while playing for Creighton Prep. After the 2016 season, he was the 4th ranked overall baseball prospect in the entire state. Bena has a flair for the dramatic; he hit a walk-off home run in the 2015 American Legion State Championship. Last year as a freshman at Iowa Western, he appeard in 35 games while hitting .311 with 2 home runs and 25 RBI.
---
To keep up with all the latest team news and information, like the Medford Rogues on Facebook and follow us @MedfordRogues on Twitter and Instagram!

For more information about 2018 season ticket packages call 541-973-2883 or visit www.medfordrogues.com/tickets/season-tickets