Join Our Team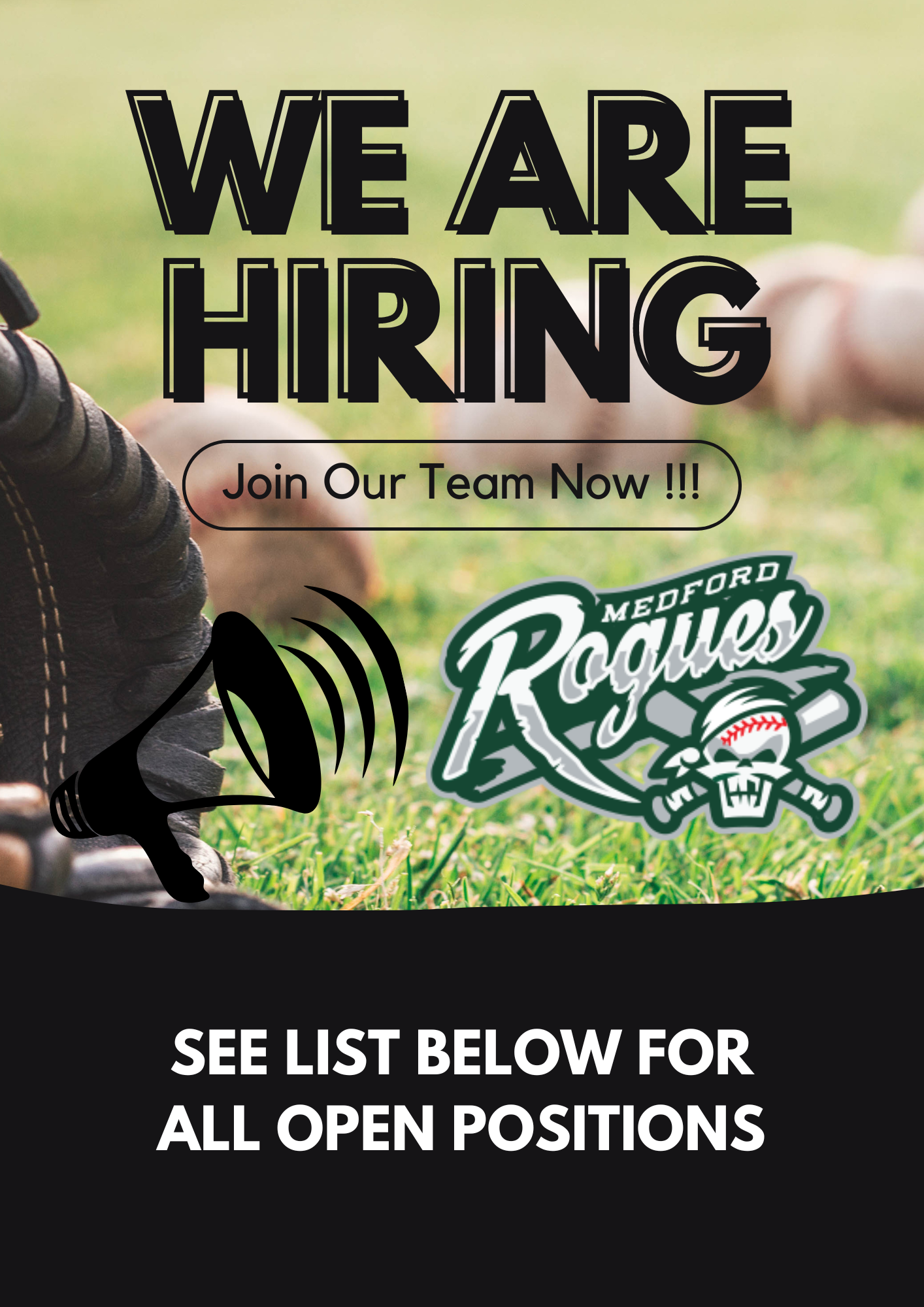 Welcome to the Medford Rogues!
We are excited for your interest in joining our team.
Below you will find additional information on each position. Please let us know which position you prefer of the following options:
Cashier: Must be great with counting change and making small talk with customers
General Snack Bar Help: Making orders and getting them to the customer as fast as possible.
Ticking Office: Getting customers tickets and knowing the ballpark area to explain where their
seats will be. This is fast paced work. We want customers in the ballpark ASAP.
Merchandise: Customer service skills needed. Knowledge of clothing, and merchandising
apparel to a level easy for the customer to find what they want.
Beer server: Must have OLCC permit and food handlers' card and over the age of 18.
Knowledge of the beverages we serve. Must have the ability to make change, take orders, and
provide quality customer service.
Mascot: Are you fun and outgoing? Do you want to be involved in the action? And no one will
know it is you! We are seeking a high energy person who is ready to entertain southern Oregon.
Promotional team: We are seeking 3-4 individuals to hype our crowd 36 times this summer. This
position will find contestants for promotions, set up promotions, and work with the General
Manager and public address announcer. This position is for people who are fun, outgoing, and
share an enthusiasm to create lasting memories for our guests.
Sound Director/DJ: Working directly with the public address announcer to play walk up music,
sound bites, and sound mixing.
Scoreboard operator: Working with the official scorekeeper and online statistician to ensure
correct information is displayed on the scoreboard during games.
Online scorekeeper: Must be willing to be trained using Gamechanger app. You will work
closely with our official scorekeeper and scoreboard operator.
Please fill out the Rogues Employee Application at the link below.
For positions that require licenses such as food handlers and OLCC the links for those tests are listed below.
Food Handler Card- Click Here
OLCC Handler Card- Click Here
Additionally, this is an extremely fast paced and team player work environment. We have a lot of
fun when we are here as well. Please note that different positions have different pay levels and
tip compensations.
If you have any additional questions on how this summer will work, please ask away. I will send
out follow up emails as time gets closer to the season.
---
---
If you need any additional information please reach out to [email protected]