MEDIA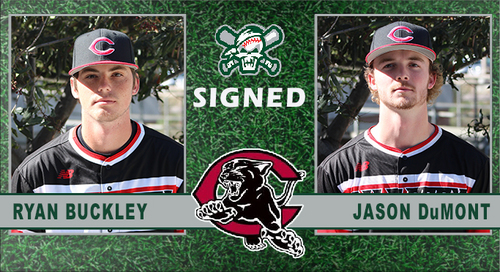 03/01/2020 3:43 AM
Article By: Rogues Media
MARCH 2, 2020 - MEDFORD, OR: The Medford Rogues announced today the signing of a pair of Southern California Junior College standouts from Chaffey College, Jason Dumont and Ryan Buckley

Dumont, a sophomore shortstop from Portland, OR is off to a great start in 2020. He is batting second in the lineup and currently hitting .313, has not committed an error on defense and has stolen seven bases in 18 games for the Panthers. Last season, he appeared in 38 games hitting .252 (28-111) with seven extra base hits for Chaffey. A 2017 graduate of Sunset High School, he was a four-time letter winner in baseball and won three letters in football. He originally signed a NLI (National Letter of Intent) to play at San Jose State, where he red-shirted in 2018.

Buckley, a right-handed pitcher from Chino, CA is a sophomore, sits near the top in the Panthers pitching rotation. His 4.43 ERA, and 22 1/3 IP put him near the top in both categories so far this season. Currently, Ryan has started five games this season and has a 1-0 record. As a freshman, he appeared in 15 games going 4-1 with a pair of saves. He transferred to Chaffey College after red-shirting at Cal State Stanislaus

"We are fortunate to get two elite players from Chaffey College who undoubtedly will be making a positive impact on our squad. Let's all welcome them to Medford like long lost brothers we didn't know we had." Said Rogues Head Coach Bill Rowe.


---
To keep up with all the latest team news and information, like the Medford Rogues on Facebook and follow us @MedfordRogues on Twitter and Instagram!

For more information about 2020 season ticket or group ticket packages call 541-973-2883.