MEDIA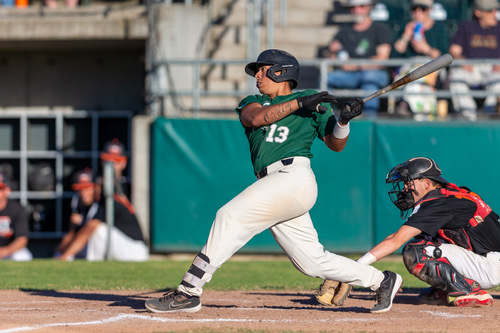 07/22/2019 12:19 PM
Article By: Jonathan Kurman
MEDFORD, Ore. – The Medford Rogues (35-12) rode a five-run seventh inning to come from behind to beat the Hayesville Hammers 11-9 on Monday evening at Harry & David Field.
With the bases loaded, Jesse Spangler (Presentation College) got hit by a pitch to drive in the first run of the game. Later in the inning, Turner Olson (Chico State) walked on four pitches to drive in another run for the Rogues.
Ben Kiefer (University of Northern Alabama) singled to lead off the second inning. He then took second on a wild pitch and scored on the RBI single by Caleb Broughton (Bucknell University). Broughton stole second base, which set a new Rogues franchise record for most steals in a season (26). He stole third base for good measure and then scored on the RBI single by Omar Ortiz (Vanguard University).
Hayesville loaded the bases with nobody out in the top of the fourth inning, but Phoenix, OR native James Turnbull stranded the runners without allowing a run.
In the bottom of the seventh, Pete Mendazona (Feather River College) and Broughton each got hit by a pitch. They advanced on a wild pitch and scored on a two-RBI single by Maxx Mahon (Vanguard University). Ortiz got his fourth hit of the day with an RBI single to score Mahon. Two more runs would score for the Rogues on the fourth and fifth errors of the game for the Hammers.
Shady Cove native Trae Perkins (Feather River College) struck out the side in the top of the eighth and pitched the ninth to close the game.
The Rogues have won ten straight.
For the full box score: CLICK HERE
Tuesday, July 23rd is Fan Appreciation Night and the final home game of the year for the Rogues. The Rogues are hosting a home run derby at Harry & David Field starting at 4:30pm. There will be blowout prices and discounts all over the ballpark, and fans will be able to use the Rowdy Bucks they accrued over the course of the season on merchandise, concessions, and to enter raffles to win fantastic prizes from local businesses. Tickets are on sale on MedfordRogues.com
With the #2 seed in the League secured, the Rogues have ensured they will only have to play one single-elimination playoff game to reach the GSCBL Championship series against the four-time defending League Champions, Top Speed Baseball.
The playoffs begin on Thursday, July 25th at 1:00pm. The Yuba-Sutter Gold Sox and the San Francisco Seagulls will play a single-elimination game to see who will advance to play the Rogues later that same day.
The GSCBL Championship Series will begin on Friday, July 26th. Every Rogues playoff game will be broadcasted live on 96.1FM/580AM The Game and online at TheGame541.com.