MEDIA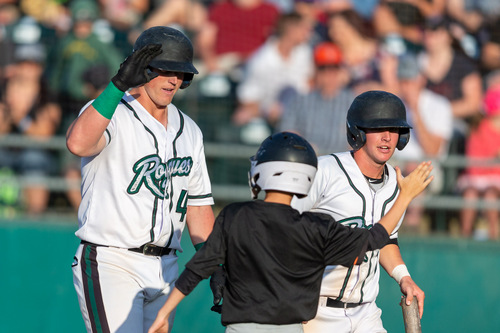 07/24/2019 12:32 PM
Article By: Isaac Fernandez
Maxx Mahon has been hitting bombs all season long for the Medford Rogues this summer. A reliable slugger at the plate, Mahon's been batting runners in like it's nothing, including a sensational grand slam on Red, White, and Blue night. And when Mahon isn't smashing doubles or homers, allowing his teammates to score, he's making plays at first base. On more than one occasion, the 6'2", 255 pound first baseman has broken out the splits to reach for a ball and get the out. Hitting baseballs over 400 feet and performing the splits are feats not many people can accomplish. Fans have been blessed this season to witness Mahon send baseballs out of Harry and David Field, especially during the Home Run Derby held before the final home game of 2019. Mahon hit nine home runs during the derby to be crowned Home Run King.
The Lexington, Kentucky native has lived all over the place. From his home ground of Lexington to the California beaches at Vanguard University, and now in Medford Oregon located in the beautiful Rogue Valley. And from ages seven to eleven, Mahon actually lived in the land down under, Australia. When I asked him about the biggest difference between living in Australia and the United States, Mahon replied with the food. "The meat and the dairy products are really fresh, really really good. As far as the seafood, it's fantastic." But to his displeasure, mayonnaise, Reece's Peanut Buttercups, or Dr. Pepper couldn't be found. Broiling food is also common in Australia, "They don't really know about the Cajun, the spice, the deep fry, which might be healthier" laughed Mahon.
Living in a foreign nation, food wasn't the only change for Mahon. Rather than playing peewee football and little league baseball, Mahon adopted rugby and fastpitch softball. "I kept in touch with what I could, so it was co-ed softball. I played with fourteen-year-olds." Keep in mind, Mahon was seven years old. Compared to baseball, the pace of play of softball is a lot faster. "Anyone can hit a home run at any point. It's very unpredictable. And baseball's unpredictable as well but, some days I miss fastpitch I'm not gonna lie." Mahon played fastpitch softball for a considerable amount of time before switching back to baseball when he returned to the States. I was curious about skills that Mahon acquired from fastpitch that translated to baseball and there were quite a few. "You gotta have quick hands," he insisted, "it's a short distance, especially when you're talking sixty plus miles an hour… I think growing up with it, has little bit of a background, it really speeded the process up for me for with hand-eye coordination…it's a bigger ball but you really don't have much room for error, it's precise. It's a very quick paced game and I think I'm very well rounded from it." And softballs can weigh anywhere between one to two ounces more than a baseball. It helped Mahon build up his arm strength and when he switched back to throwing baseballs, it was like "throwing a little rock."
A graduate from Vanguard University, Mahon said he's looking for any chance he can get to play competitive baseball. Mahon said he's been blessed to play with a few great teams throughout his career and that there's something special about this Rogues team. "The guys we get along, it's almost like we've known each other. We all click." And click they do, the Medford Rogues set a franchise record winning eleven straight games to start the season. The Rogues mindset has also played a part in their success this year. "Summer ball, a lot of guys come, they're either through the motions or just here to get work. Sean Gallagher early on had us buy into an identity. We're kind of not treating this like summer ball. We want to win." Maxx Mahon clearly means business as he leads the Rogues in home runs and RBI's. Before games, Mahon doesn't do anything extra or out of the ordinary to prepare, "I like joking around with guys, but there's a level of seriousness. I take the game serious every time and try to work hard. Be well prepared, do everything the right way, but at the same time I try to have fun. There's no reason to go out there with extra pressure or thoughts in your head." Mahon has definitely been a spectacle to watch this season, and no pitcher is safe when they see the Southern Slugger walk up to the plate.