MEDIA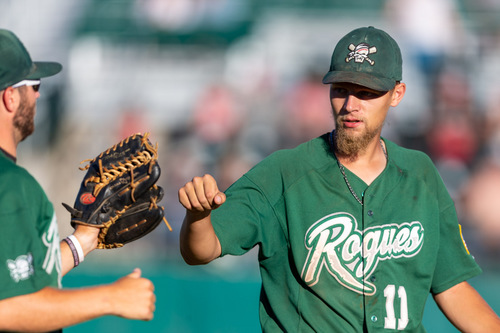 07/26/2019 7:21 PM
Article By: Rogues Media
Kentfield, Ca. – The Medford Rogues defeated Top Speed Baseball 10-5 on Friday afternoon at the College of Marin.
Jesse Spangler (Presentation College) doubled off the scoreboard in left field to lead off the third. He then scored on an RBI single by Tre'von Dorsey.
Top Speed tied the game on an infield single in the bottom of the third.
Maxx Mahon (Vanguard University) walked with two outs in the top of the fourth. Aki Buckson (Vanguard University) then homered to left field.
Top Speed answered with a two-run home run of their own in the bottom half of the inning.
Brice Foster (Menlo College) hit a solo home run in the top of the fifth.
Mahon walked to lead off the top of the sixth and was replaced for pinch runner Travis Danielson (Menlo College). Danielson took off on the pitch, which was bunted down the first base line by Buckson. The throw from Top Speed's catcher sailed wide, which allowed Danielson to score. On the next pitch, Spangler sent it over the left field wall for a two-run home run.
Top Speed loaded the bases with nobody out in the bottom of sixth. One run was walked in before Foster came on in relief. He struck out three consecutive Top Speed batters to retire the side and retain the lead for the Rogues.
Turner Olson (Chico State) and Ryan Gamboa (Academy of Art University) each singled to lead off the ninth. Medford Rogues MVP Caleb Broughton (Bucknell University) then singled home Olson. Foster and Omar Ortiz (Vanguard University) then hit back-to-back doubles to extend the lead.
Southpaw Matt Lester (Vanguard University) went 5+ innings and allowed four earned runs to pick up his first win in a Rogues uniform.
Foster finished the game with nine strikeouts over four innings in relief.
The Rogues have now won a franchise record 13 games in a row.
For the full box score: CLICK HERE
The GSCBL Championship Series will continue Saturday at 1:00pm. The deciding Game Three (if needed) will be Sunday at 1:00pm. Every Rogues playoff game will be broadcasted live on 96.1FM/580AM The Game and online at TheGame541.com.
2020 Season Tickets are on sale now! Reserve your seats by September 16th to retain 2019 prices. Call 541-973-2883 or email [email protected]