MEDIA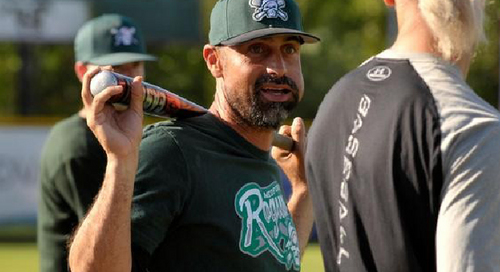 08/14/2019 11:55 AM
Article By: Rogues Media
August 13, 2019 – MEDFORD, OR: Following a runner up finish in the Golden State Collegiate Baseball League, the Medford Rogues announced Head Coach Sean Gallagher has stepped down as the team manager.
"At the end of the season, I met with Dave and discussed the direction of both Playball Prospects and the Medford Rogues," Sean Gallagher said. "My truest passion is developing and mentoring our youth community through the game of baseball and softball."
Gallagher put together a 39-14 record during the 2019 season, which saw 6 franchise records broken during the campaign including: most stolen bases in a game, most stolen bases in a season, longest winning streak in franchise history (13) and highest winning percentage by any Medford Rogues team in history.
"Coach did a fantastic job for us during the 2019 season." Rogues General Manager Dave May said. "He played the style of baseball we talked about during his interview, he also made an impact on the over 35 players who put on a Rogues uniform during the 2019 season."
"The opportunity to coach the Rogues this summer was tremendous, and I am forever grateful for everyone that made this season happen," Gallagher said. "However the demanding schedule of summer ball does not allow for much else and my commitment to the youth of Playball Prospects is paramount."
The Rogues will begin looking for a new head coach for the 2020 season immediately with the hopes of having their next leader announced in September to allow a full season of recruiting the upcoming roster.
"Replacing coach Gallagher will be no easy task," May said. "He has tremendous baseball knowledge and I look forward to seeing what he does with his youth program in the years to come."
---
2020 Season Tickets are on sale now! Tickets purchased before September 16th will be sold at 2019 pricing and will include $50 in ballpark credit for the 2020 season.