MEDIA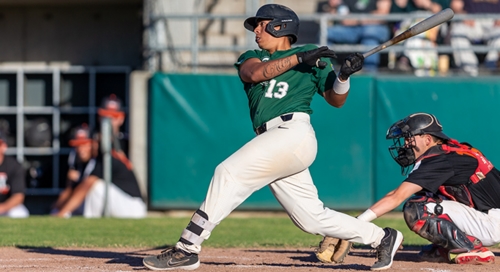 04/26/2021 12:51 PM
Article By: Rogues Media
April 26, 2021 – Medford, OR: We are excited to announce that Medford fan favorite, Omar Ortiz is going to be back in a Rogues uniform in 2021 for his third season with the team.

Last summer, he for a .349 batting average, 10 doubles, and 28 RBI. Omar was in the team's top three in every offensive power category.
During the 2019 Rogues campaign, Ortiz led the team in games played (52), at bats (157), and doubles (13). He was also top five in seven major categories including home runs (3).
Ortiz is currently a senior at Vanguard University where he has appeared in 44 of 48 total games played, with a .344 batting average with 11 home runs, and a team leading 47 runs batted in. Prior to Vanguard, he at the University of Pacific. As a junior, Ortiz batted .329 with 53 hits, 11 doubles, 8 home runs, 36 RBI and 23 runs scored in 47 games and was finished the season with a team high.559 slugging percentage
In High School, he was a part of the Nevada state champions in 2014 as a part of Liberty High's Patriots. Ortiz was named All-Sunrise Region and Second Team All-State after hitting .409 with two homers and 32 RBI his senior season.
Rogues head coach Bill Rowe- "Omar contributes a super solid glove and a dangerous bat that puts fear into opposing pitchers. Coach Berberet and myself are excited to see Mr. Ortiz back in Medford for another summer!"
---
To keep up with all the latest team news and information, like the Medford Rogues on Facebook and follow us @MedfordRogues on Twitter and Instagram!
For more information about 2021 tickets and Corporate Partnerships call 541-973-2883.