MEDIA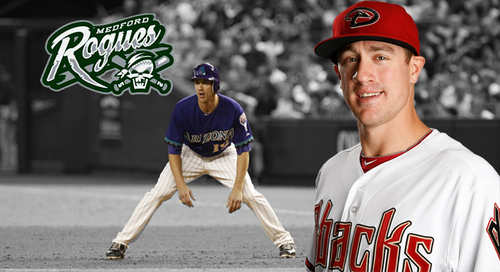 08/05/2022 11:55 AM
Article By: Local Media
ANN ARBOR, Mich. -- University of Michigan head baseball coach Tracy Smith announced on Friday that Tyler Graham has joined the staff as a volunteer assistant coach and hitting instructor. Tyler managed the Rougues in 2017,
"We are thrilled to announce the addition of Tyler Graham to the Michigan baseball program," said Smith. "When I began the search for this position, one of the main things I was looking for was someone who 'knows what winning looks like' and understands the importance of creating a competitive identity on the offensive side. Having competed against Oregon State teams during my time in the Big Ten and Pac-12 over the last several years, I believe we found our guy in Tyler. He was a main contributor on national championship teams as a player and as a member of the staff. The fact that he played at the highest level by reaching the major leagues will also serve our players well. I am excited to see him bring some of the same qualities of success to Ann Arbor and our clubhouse."
Graham, a nine-year veteran of professional baseball, made his MLB debut with the Arizona Diamondbacks in 2012 after setting a record with 60 stolen bases for the organization's Triple-A Fresno Grizzlies in 2011. He finished his professional career with 267 stolen bases and a .272 batting average with 22 home runs and 218 runs batted in.
Following his playing career, Graham spent the 2015 and 2016 seasons as an undergrad assistant for the Oregon State baseball team as he finished his degree requirements. He then spent 2017 through 2019 as the program's director of player development while also coaching in several summer leagues.
In 2020, Graham was hired by the Texas Rangers to be an assistant coach for their Triple-A affiliate, the Nashville Sounds. He has spent parts of the last two years as a private MLB hitting instructor.
A graduate of Oregon State University, Graham helped guide the Beavers to a national championship his senior season of 2006 and caught the final out of the game in center field. OSU also won back-to-back Pac-10 Conference titles in 2005 and 2006.
All told, Graham played in 151 games for the Beavers and batted .317 in his career with 10 doubles, two triples, one home run, and 51 RBI. He also swiped 39 bases to rank among the program's all-time leaders.
Graham, a native of Great Falls, Mont., was selected in the 19th round of the 2006 MLB Draft by the San Francisco Giants. He was initially drafted in the 14th round of the 2005 draft by the Chicago Cubs.